deviceOnlineEntryPromo1
Introducing Device Online
The Device Technologies digital product catalogue and ecommerce ordering website.
Learn more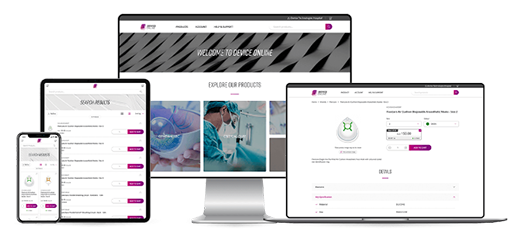 ABOUT CRITICAL CARE
Supporting patients and healthcare professionals in the critical care environment, Device Technologies sources innovative technologies to support quality patient outcomes. Device Technologies partners with reputable brands in the industry to ensure premium quality in each product supplied.
CRITICAL CARE BRANDS
The Device Technologies critical care portfolio represents high quality choices for health care professionals, providing them with the efficient, reliable support they need in the critical care environment. The brands within this sector are known for their commitment to client care, and therefore sit well within Device Technologies' promises and values.
EMERGENCY
Providing cutting edge technology in critical care medical products, Device Technologies supports emergency and ambulance services with leading acute care technologies. These include:
Defibrillation/monitoring solutions
Mechanical CPR products
Airway management solutions
Vascular access/vascular surgery solutions
Ventilation products
INTENSIVE CARE UNIT
Device Technologies offers a vast range of innovative products to assist in the delivery of patient care throughout the hospital environment. These include:
Airway management solutions
Vascular access solutions
Patient monitoring products
NEONATAL INTENSIVE CARE UNIT
Device Technologies understanding of the neonatal patient group enable us to provide products dedicated to this unique environment, allowing healthcare professionals to provide high quality care. These products include:
Safe Enteral feeding systems
Specialised vascular access solutions
NIRS (near infra red spectroscopy) monitoring
Ventilation products
Operating Theatre & Hospital Ward Areas
Device Technologies provide a variety of offerings for the operating theatre, hospital ward and other environments within the hospital. These include:
Patient monitoring products
Vascular access solutions
Airway management products
Product Support
With training and education at the forefront, Device Technologies provides a range of services to support all purchases, ensuring a successful ongoing partnership between distributor and healthcare professional.
EDUCATION

Device Technologies complements each purchase with a highly developed education program, complete with hands-on training and ongoing support.

TECHNICAL SERVICES

All Device Technologies purchases are supported by highly skilled technicians who deliver detailed service programmes as well as 24/7 support.

PROFESSIONAL SUPPORT

Device Technologies' Project Planning, Customer Service, and Sales Teams work together to ensure a smooth process from purchase to delivery.