Introducing Device Online
The Device Technologies digital product catalogue and ecommerce ordering website.
Learn more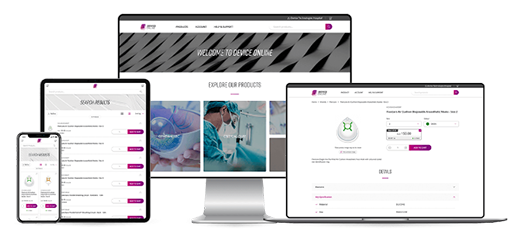 ABOUT OPHTHALMIC TECHNOLOGY
Device Technologies' ophthalmic division consists of two main sectors – Optometry and Ophthalmology in both diagnostic and surgical. The ophthalmic portfolio is one of Device Technologies' largest, showcasing innovative diagnostic, treatment, and surgical devices to the market.
OPTOMETRY DIAGNOSTICS
Optometry examinations are supported by Device Technologies' carefully selected range of visual systems, testers, and retinal cameras which allow for accuracy, comfort, and efficiency. These include:
Vision-testing equipment
Optical imaging devices & cameras
OPHTHALMIC DIAGNOSTICS
A leading supplier in ophthalmology diagnostic and surgical equipment, Device Technologies is dedicated to accurate diagnostic solutions for patients and medical professionals. These products include:
Optical imaging devices & cameras
Ultrasounds and Laser Treatment devices
Surgical Operating Microscopes and theatre equipment
OPHTHALMIC SURGICAL
The Device Technologies' portfolio showcases an extensive range of high quality surgical devices, delivering trusted brands to ophthalmologists and hospitals Australia-wide. These products include:
Micro surgical instrument solutions
Multifocal intra-ocular lens products
Product Support
Device Technologies supports the ophthalmic technology department from customer service to ongoing education and training support for healthcare professionals.
EDUCATION

Device Technologies complements each purchase with a highly developed education program, complete with hands-on training and ongoing support.

TECHNICAL SERVICES

All Device Technologies purchases are supported by highly skilled technicians who deliver detailed service programmes as well as 24/7 support.

PROFESSIONAL SUPPORT

Device Technologies' Project Planning, Customer Service, and Sales Teams work together to ensure a smooth process from purchase to delivery.