Introducing Device Online
The Device Technologies digital product catalogue and ecommerce ordering website.
Learn more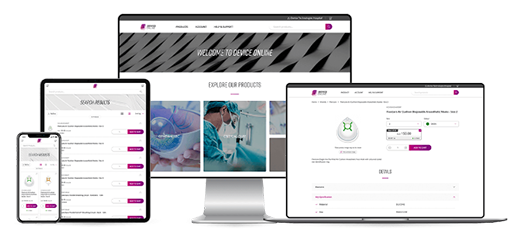 ABOUT PLASTIC & RECONSTRUCTIVE SURGERY
The Device Technologies portfolio provides some of the most reliable surgical solutions for breast surgery on the market, with client satisfaction at the forefront of each product provided. Device Technologies connects healthcare professionals with advanced technologies, consumables and support.
PLASTIC & RECONSTRUCTIVE SURGERY BRANDS
Device Technologies showcases a range of products for both cosmetic and reconstructive breast surgery. The Plastic and Reconstructive portfolio is based around client satisfaction, consistent results and professional practice. The brands offered cover an array of surgical procedures offered for breast surgery- such as breast implants, delivery assistance sleeves and fat tissue transfer equipment.
BREAST IMPLANT SURGERY
Device Technologies presents a product portfolio carefully compiled to enhance patient experiences through surgical-based solutions. Device Technologies collaborates with trusted brands to enhance patient outcomes with the following products:
Round smooth breast implants
Round micro-textured silicone breast implants
Surgical mesh
ACCESSORIES FOR BREAST SURGERY & BREAST RECONSTRUCTION
Offering a wide variety of surgical implants and product options, Device Technologies serves as a go-to name for healthcare professionals and patients alike for Plastic and Reconstructive Surgery. Other products include:
Implant delivery devices
Adipose Cellular Transplantation systems
Product Support
With direct access to manufacturers and healthcare professionals, Device Technologies provides the link between technology expert and doctor.
EDUCATION

Device Technologies complements each purchase with a highly developed education program, complete with hands-on training and ongoing support.

TECHNICAL SERVICES

All Device Technologies purchases are supported by highly skilled technicians who deliver detailed service programmes as well as 24/7 support.

PROFESSIONAL SUPPORT

Device Technologies' Project Planning, Customer Service, and Sales Teams work together to ensure a smooth process from purchase to delivery.