deviceOnlineEntryPromo1
Introducing Device Online
The Device Technologies digital product catalogue and ecommerce ordering website.
Learn more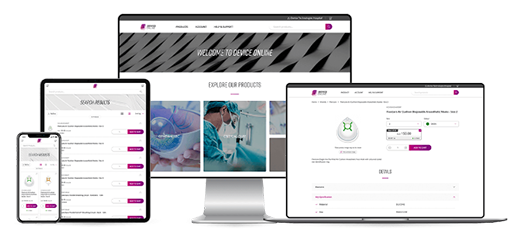 ABOUT ROBOTICS
Device Technologies brings innovative robotic solutions to hospitals throughout Australia and New Zealand – from advanced surgical systems to autonomous delivery offerings. Device Technologies connects healthcare professionals with advanced technologies, consumables, and training.
ROBOTICS BRANDS
The Device Technologies portfolio boasts advanced robotic systems and technologies. Partnering with market leaders, the robotic portfolio ranges from surgical systems to educational robotic training programs, to logistical systems focused on general hospital efficiency.
MINIMALLY INVASIVE SURGICAL SYSTEMS
Device Technologies is renowned for bringing the most advanced robotic-assisted surgery solutions to market. These fourth-generation surgical technologies help enable your surgeon to perform minimally invasive surgery with an advanced set of instruments in a 3D high-definition view of the surgical area.
DELIVERY & RETRIEVAL SYSTEMS
Device Technologies delivers logistic solutions to hospitals via automated robotic delivery and retrieval systems. These systems are designed to effectively transport items without the need for human intervention. These devices can assist hospitals with the following:
Food services
Waste removal
Pharmacy
Medical records
Loan sets
Pathology
Linen
Product Support
With direct access to manufacturers and healthcare professionals, Device Technologies provides the link between technology expert and doctor.
EDUCATION

Device Technologies complements each purchase with a highly developed education program, complete with hands-on training and ongoing support.

TECHNICAL SERVICES

All Device Technologies purchases are supported by highly skilled technicians who deliver detailed service programmes as well as 24/7 support.

PROFESSIONAL SUPPORT

Device Technologies' Project Planning, Customer Service, and Sales Teams work together to ensure a smooth process from purchase to delivery.