deviceOnlineEntryPromo1
Introducing Device Online
The Device Technologies digital product catalogue and ecommerce ordering website.
Learn more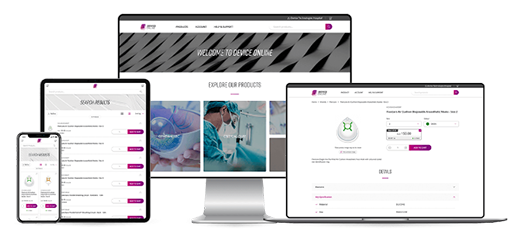 ABOUT THEATRE TECHNOLOGY
Device Technologies represents an expansive and high quality portfolio of medical imaging and audio visual systems, allowing for enhanced productivity, accuracy and organisation within the operating environment. Delivering supplies to sectors of the medical profession, Device Technologies is dedicated to connecting the healthcare professional with high grade medical devices and supplies.
VIDEO INTEGRATION
Device Technologies facilitates outcomes for patients by supplying healthcare professionals with some of the highest grade integrated theatre systems on the market. These technical solutions include the following systems:
Advanced instrument tracking technologies
HD vision image management
Audio-visual & medical imaging solutions
SURGICAL LIGHTS
In order to perform at the best of their abilities, medical professionals require crisp, white light, with excellent shadow control. Device Technologies partners with long-standing, highly trusted brands to create the most ideal environment for surgeons and their patients. These solutions include:
LED surgical lighting systems
HD suspension surgical lighting
In-ceiling critical care lighting systems
THEATRE TABLES
Device Technologies teams with operating table brands to provide high quality equipment for surgeons and patient care.
AUTONOMOUS ROBOTICS
The Device Technologies robotics portfolio is one of the largest in the world, consisting of advanced simulation systems as well as delivery and retrieval systems to service entire hospitals. Some of the robotic technologies that fall under the theatre equipment category include:
Robotic surgery simulation systems
Remote presence devices
Digital theatre integration systems
Product Support
With direct access to manufacturers and healthcare professionals, Device Technologies provides the link between technology expert and doctor.
EDUCATION

Device Technologies complements each purchase with a highly developed education program, complete with hands-on training and ongoing support.

TECHNICAL SERVICES

All Device Technologies purchases are supported by highly skilled technicians who deliver detailed service programmes as well as 24/7 support.

PROFESSIONAL SUPPORT

Device Technologies' Project Planning, Customer Service, and Sales Teams work together to ensure a smooth process from purchase to delivery.